The automotive industry is constantly evolving, and with each passing year, we witness remarkable innovations that reshape the way we drive, one such revolutionary change has come in the form of 2023 Tata Nexon EV – a true game-changer in the world of electric vehicles (EVs).
In this article, we'll delve deep into the game-changing aspects of 2023 Tata Nexon EV, from its ground-breaking design to cutting-edge technology and unmatched safety features.
2023 Tata Nexon EV – Design
1. Game-Changing Design
The 2023 Tata Nexon EV's design is nothing short of a game-changer in the EV market. Its futuristic and sleek exterior sets it apart from the crowd, making a statement wherever it goes.
2. Smart Digital DRLs
The signature Daytime Running Lights (DRLs) with welcome and goodbye sequences and charging indicator give the 2023 Nexon EV a distinctive and modern appearance.
3. Smart Digital X Factor
The iconic X factor design element, coupled with the welcome and goodbye sequence, adds a touch of sophistication and innovation to the Nexon EV's aesthetics.
4. Hidden Rear Wipers
Better visibility is essential for safety. 2023 Tata Nexon EV's hidden rear wipers provide improved coverage, ensuring a clear rear-view even in challenging weather conditions.
5. Digital Dashboard
Step into the future with the 2023 Tata Nexon EV's dynamic digital dashboard, elevating your driving experience with its futuristic design and functionality.
6. R16 Alloy Wheels
The 2023 Tata Nexon EV glides smoothly on R16 alloy wheels with aero inserts, combining style with aerodynamics for optimal performance.
7. Smart Digital Steering Wheel
The 2-spoke back-lit steering wheel not only looks stylish but also enhances your driving experience with its intuitive design.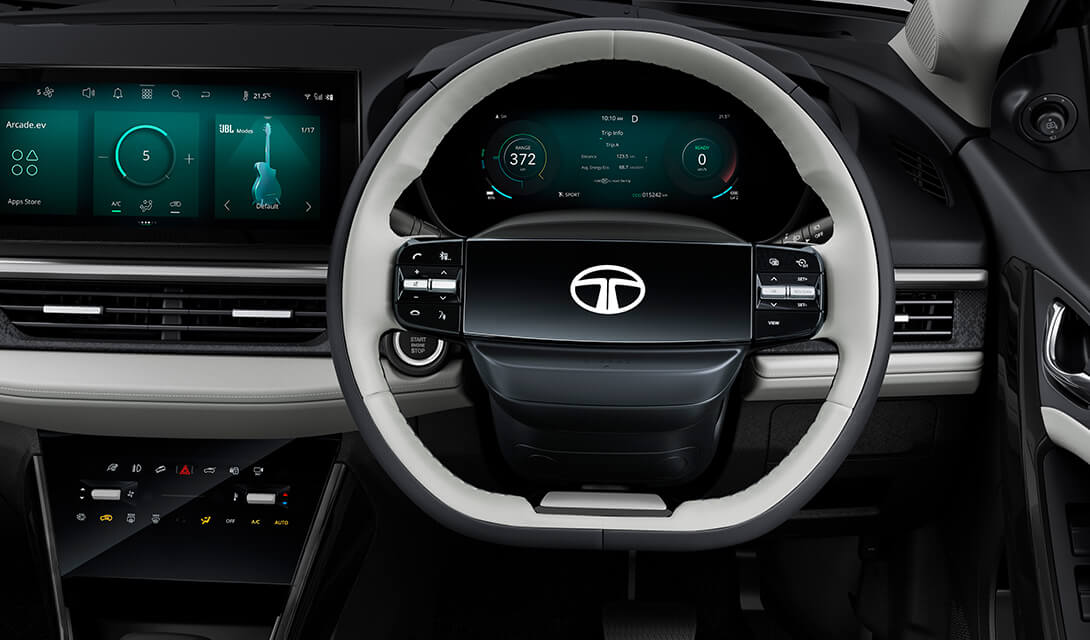 8. Digital Control Panel
Touch meets technology with the 2023 Tata Nexon EV's control panel, offering seamless interaction and control over various functions.
2023 Tata Nexon EV – Personas
2023 Tata Nexon EV understands that every driver is unique. It offers 3 distinct personas: empowered, fearless, and creative, allowing you to select the one that resonates with your driving style and personality.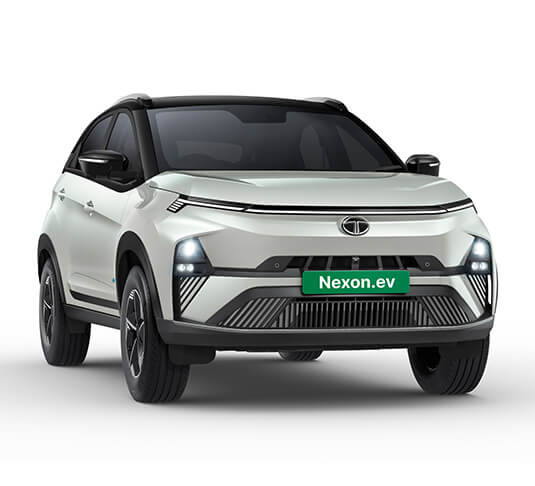 2023 Tata Nexon EV – Innovation
1. V2V Charging
The Nexon EV lets you charge another EV anywhere using vehicle-to-vehicle charging technology, expanding your charging options and convenience.
2. V2L Technology
Power your gadgets with your EV. 2023 Tata Nexon EV's V2L (Vehicle-to-Load) technology transforms your car into a power bank, ensuring you're never out of power on the go.
3. Arcade EV
With an extensive app suite, including music, video, productivity, navigation, and gaming apps, 2023 Tata Nexon EV offers entertainment like never before. Imagine watching your favourite OTT series in your EV.
2023 Tata Nexon EV – Technology
1. Cinematic Experience
The 2023 Tata Nexon EV boasts a 31.24 cm touchscreen, providing an immersive and unparalleled cinematic experience for both drivers and passengers.
2. JBL Cinematic Sound System
Enjoy spatial, immersive JBL audio for a 360° 3D surround sound experience, taking your music and entertainment to the next level.
3. Wireless Charging
Say goodbye to tangled cords. 2023 Tata Nexon EV features wireless charging, making it incredibly convenient to keep your devices powered up.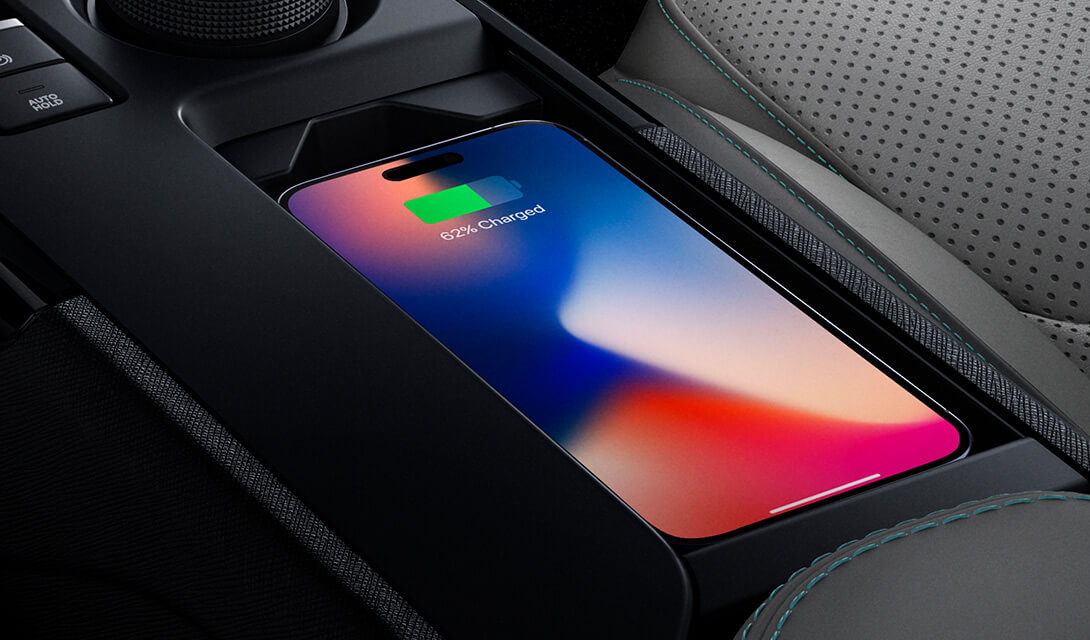 2023 Tata Nexon EV – Safety
| Safety Feature | Description |
| --- | --- |
| SOS Call | In-cabin emergency assistance button for added peace of mind. |
| 360° Surround View Camera | Enhanced awareness and safety with a 360° view of surroundings. |
| Blind Spot View Monitor | Added safety with Blind Spot View Monitor when changing lanes. |
| ESP with iVBAC | Advanced dynamic stability control for precise handling. |
| 6 Airbags | Comprehensive protection with six airbags. |
| Hill Ascent and Descent Control | Confidently navigate inclines and declines. |
| Auto Hold | Keep the car stationary on inclines for added convenience. |
| All Disc Brakes | Increased braking efficiency and control with all-disc brakes. |
| Front Parking Sensor | Easier parking with front assist sensors for safe and precise parking. |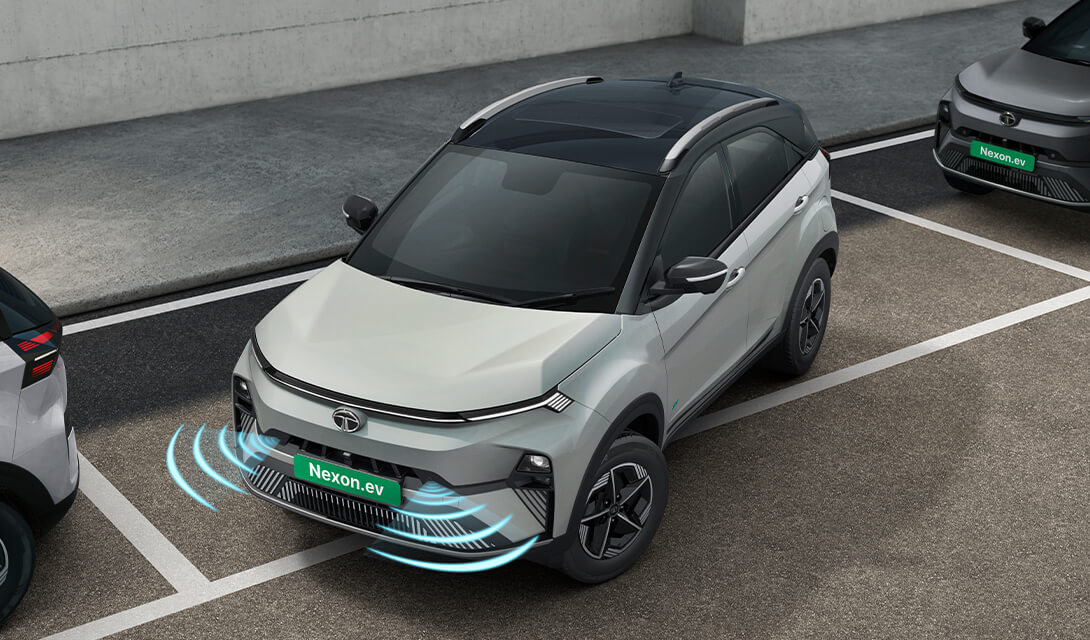 2023 Tata Nexon EV – Comfort
1. Electric Sunroof
Open up your driving experience with the voice-assisted electric sunroof, allowing you to enjoy the outdoors from the comfort of your Nexon EV.
2. Grand Centre Console
Long drives are a breeze with the spacious grand center console, providing extra storage and convenience.
3. 60:40 Rear Seats and Centre Armrest
Customize your comfort and storage with the versatile 60:40 rear seats and center armrest.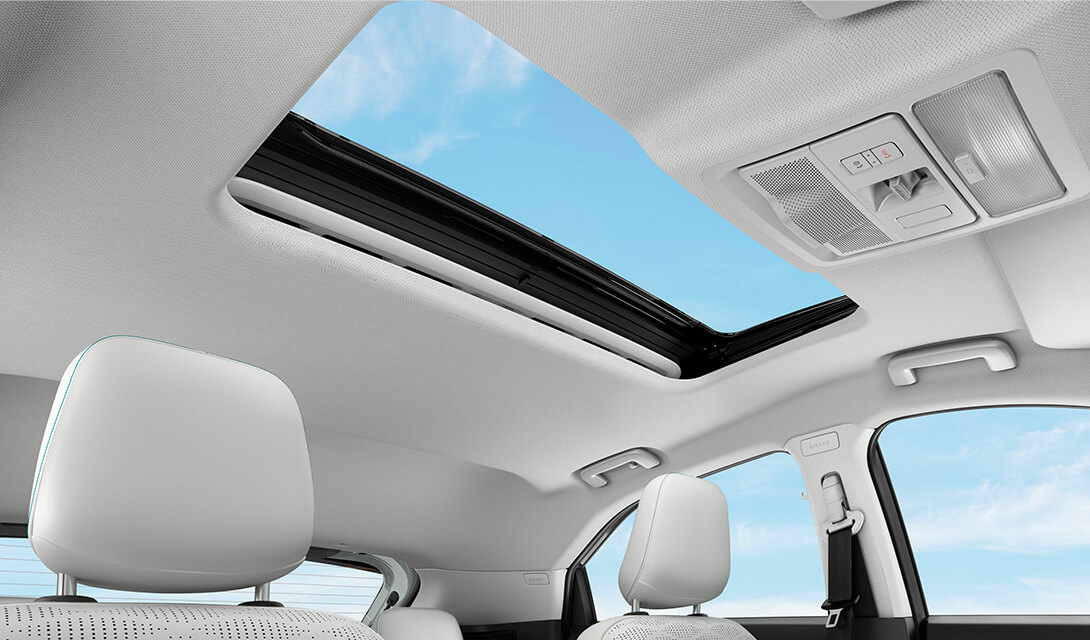 Performance
| | |
| --- | --- |
| Performance Feature | Description |
| Paddle Shifters | Enable on-the-go energy regeneration for enhanced control. |
| Drive Modes | Choose from Eco, City, or Sport modes to match your driving style. |
| Acceleration (0-100 km/h) | Impressively quick 8.9 seconds acceleration. |
| Power Output | Experience 106.4 kW of power and 215Nm of instant torque. |
| Ingress Protection | Enjoy worry-free driving with IP67 ingress protection against the elements. |
Charging Options
Enjoy hassle-free drives with multiple charging options:
Home Charging: Charge conveniently at home with the 7.2kW AC Home Wallbox Charger.
On-Road Charging: Charge efficiently on the road with the 3.3 kW AC Wall Box, 7.2 kW AC Wall Box, or DC Fast Charger.
Multiple Colour Choices
Personalize your 2023 Nexon EV with multiple colour choices to match your style and preferences.
Empowered Oxide
Fearless Purple
Ceartive Ocean
Daytona Grey
Flame Red
Pristine White
Intensi Teal
Conclusion
The 2023 Tata Nexon EV is more than just an electric vehicle; it's a game-changing revolution. With its innovative design, cutting-edge technology, robust safety features, and exceptional performance, it's setting new standards in the automotive industry. Embrace the future of driving with the Nexon EV and experience the next level of mobility.
Please also do check out another master piece and creation from Tata i.e Avinya EV
Frequantly Asked Questions (FAQs)
1. What is 2023 Tata Nexon EV's range on a single charge?
The Nexon EV offers an impressive range of 465 km on a single charge, making it suitable for long drives.
2. Can I charge other EVs with 2023 Nexon EV?
Yes, Nexon EV features vehicle-to-vehicle charging (V2V) technology, allowing you to charge other EVs anywhere.
3. How many drive modes does 2023 Tata Nexon EV offer?
Offers multiple drive modes, including Eco, City, and Sport, catering to various driving styles.
4. Is the Tata Nexon EV equipped with advanced safety features?
Absolutely, Nexon EV comes with a wide range of safety features, including 360° Surround View, Blind Spot View Monitor, and 6 airbags.
5. What charging options are available for 2023 Tata Nexon EV?
Tata Nexon EV offers home charging with a 7.2kW AC Home Wallbox Charger and on-road charging options, including DC Fast Charger.