Are you ready for an exciting journey into the world of cutting-edge automotive innovation of Tata Avinya EV Car Price: Specifications, Range, Technology?
Join us today as we delve into Tata's latest EV creation – The Avanya. In this post, we will talk about Tata Avinya EV Car Price: Specifications, Range, Technology. Amidst the flurry of news surrounding this remarkable vehicle, we bring you an in-depth exploration of its features, design, and everything that makes it a true game-changer in the realm of electric cars.
Tata's Avinya EV creation is expected somewhere in the range of ₹ 30.00 – 40.00 Lakh
The Avinya concept serves as a glimpse into the electric vehicle future, and enthusiasts eagerly await its arrival in February 2025.
The target range is a minimum of 500 km on a 30-minute charge, highlighting Tata's commitment to electric vehicle capabilities.
Innovative Concepts: The name "Avinya" signifies innovation in Sanskrit. This concept showcases Tata's vision for the future of electric mobility.
Global Ambition: Tata Motors aims to showcase India's potential to produce world-class electric vehicles, with aspirations to manufacture batteries locally.
Not Production-Ready: Avinya is not available for purchase now; its production version is expected in 2025. It previews a unique blend of SUV, MPV, and hatchback designs.
Avinya is designed exclusively for electric powertrains. It's built on Tata's Generation 3 platform dedicated to electric vehicles.
Avinya features Tata's new interpretation of its logo in the daytime running lamps, which will become a signature element across Generation 3 EVs.
The exterior design includes distinctive treatments like a wing-like rear design and innovative elements such as suicide doors, a full glass roof, and a glass boiler.
The car's length is approximately 4.3 meters, similar to the Creta. The wheels are positioned at the edges of the vehicle, maximizing interior space and reducing the engine bay size due to its electric powertrain.
The Generation 3 platform's benefits include a stretched wheelbase and a battery pack below the floor, resulting in a flat, spacious cabin with ample legroom.
The interior includes individual air conditioning units on each door, temperature control on the door pad, and sound systems integrated into the headrests.
Patent-pending wires on the alloy wheels includes dynamic elements within the tire design that open as the car moves, aiding in improved airflow and extending the car's range.
Future technologies like artificial intelligence, machine learning, connected car tech, and autonomous driving on the Generation 3 platform.
Controlling everything with voice commands, demonstrated through its dashboard design without a traditional touchscreen.
Relaxation and Aromatherapy
Avinya's cabin features aroma dispensers, emphasizing relaxation and well-being, aligning with Tata's vision for a calming EV experience.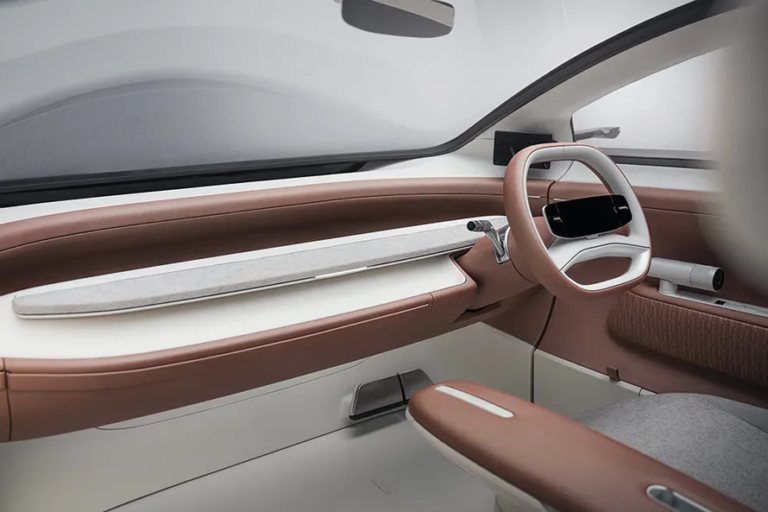 The Tata Avanya concept represents a forward-thinking approach to electric vehicle design, focusing on aerodynamics and efficiency-enhancing elements.
Tata Motors' Avinya concept not only showcases a futuristic electric vehicle design but also embodies Tata's aspirations to lead in the global electric vehicle space.
Also, read how ADAS technology has marked a turning point in the automotive industry. This innovation is revolutionizing the way we drive, enhancing safety, convenience, and overall driving experience
Frequently Asked Questions
When can we expect the production version of the Avinya concept? Tata Motors plans to unveil the production version of the Avinya concept in 2025.
Is the Avinya concept available for purchase? No, the Avinya concept is not available for purchase. It offers a glimpse into Tata's future electric vehicle lineup.
What sets the Avinya concept apart from other electric vehicles? The Avinya concept showcases Tata Motors' commitment to an electric-only future and its innovative Generation 3 platform.
What innovations does the Avinya concept bring to the interior? The Avinya concept introduces voice-command technology, a unique air conditioning system, and creatively integrated sound systems.
How does the Avinya concept contribute to Tata's global aspirations? The Avinya concept exemplifies Tata Motors' ambition to be a global player in the electric vehicle sector, with plans for local battery production and an international platform.